24/7 Customer Support
Information on general and dedicated support channels, including escalation matrix for unresolved queries.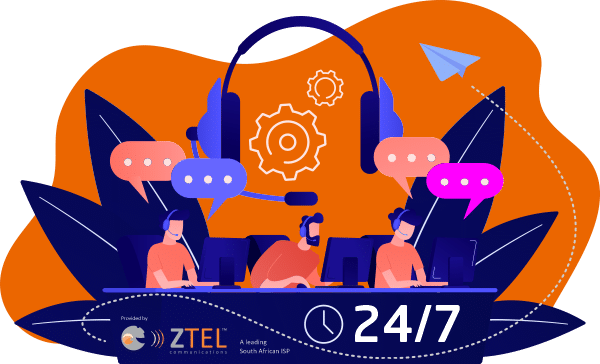 24/7 Support
Our offices are open 24 hours, 7 days a week. Please see contact information for 24/7 support here.

24/7 Direct Support Contacts
Contact information for 24/7 support
ZTEL 24/7 National Support hotline: 087 183 2045
Mobile: 067 227 9860
Email: support@ztel.co.za
WhatsApp: 065 231 1081
Walk-in Office: 55A Newton St, Newton Park, Port Elizabeth.
Dedicated, Private Client Support
You can access your very own, dedicated support agent if you are a registered ZTEL customer. Below you can find information about our core operations managers and support agents across South Africa. Use the form below if you have any questions, and one of our support managers will contact you within 90 minutes. 

Jacques Stander
Night Support Manager
Jacques is available  to handle your queries at any time during the night.
Mobile: 067 227 9860
Email: jacques@ztel.co.za

Marvelous Sunhua
Core Network Admin
Based at our head office in Port Elizabeth, Mr Sunhua manages core network infrastructure and support team operations 
Mobile: 062 084 6622
Email: marvelous@ztel.co.za

Khalil Banda 
Chief of Operations, Kwa-Zulu Natal
Khalil oversees operations in the Kwa-Zulu Natal region.
Mobile: 067 227 9860
Email: techkzn@ztel.co.za

Billing and Accounts
Your private support agent can help you with any account related information. For advanced billing issues, please use the contacts below

Muneeb Jamal
Billing & Accounts Head Office
ZTEL Communications was founded in 2009 by Muhammad Owais. Based in Port Elizabeth
Mobile: 069 195 6609
Email: accounts@ztel.co.za


Mariyah Omer
Kwa-Zulu Natal Regional Manager 
In addition to being Durban's regional manager, Mariyah also works as Kwa-Zulu Natal's head of accounts
Mobile: 061 533 7814
Email: durban@ztel.co.za


Mujahid Al Qudah
George Regional Manager
Mujahid serves as the regional manager in George and handles accounts for this region
Mobile: 067 033 5620
Email: geroge@ztel.co.za
Escalations
The following escalation matrix should be followed in the case of unresolved issues with ADSL, VDSL, Fibre, SonicFibre [AirFibre] or wireless broadband. Level 3 can be contacted directly for non-resolved accounting issues.